Niyi, a fierce government critic sold his farm for almost double the worth because of the Nigeria border closure.
Author: Oluniyi Gates
I remember casually scrolling through my twitter feed where I get most of my news from and seeing an embedded news item relating to the border closure.
My first thought was of my friend William who I rightly guessed must have a comment on it. He had been giving hints since the federal government started flirting with the idea of a border closure like they always do when they are looking to gauge reaction on a new policy since the system the government has employed recently is the trial and error strategy.
Here is a deep dive on the Nigeria border closure especially as it affects the yuletide.
William predicted what he always predicts: doom! And to an extent, William was right, but then William is always right to an extent, anyone who predicts doom on any given policy or action of the federal government will always be right to a degree.
Inter trade between Nigeria and its neighbours has always acted as a supplement for the consumables market in the Nigerian economy. We have never truly been able to achieve self-sufficiency on any food item consumed on a large scale. Closing the Seme border was predictably bad for consumers in Nigeria. We thought this was just Buhari's way to reinforce his message to the populace that rice indeed was a luxury.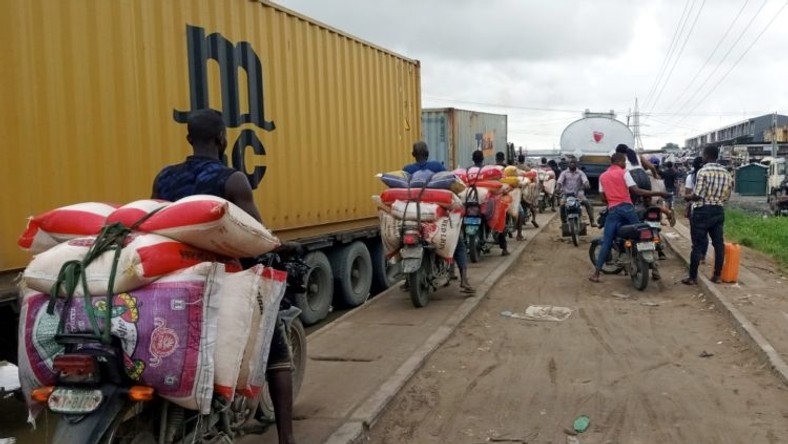 I called another friend, Bashir who I had met in Taraba at the NYSC orientation camp and who was looking to get into rice farming as we discussed in our agro-allied class SAED class. He had had a little success with it and on this particular afternoon, he seemed to be in a very cheerful mood.
"Ahn Ahn Bashir, e be like say you no dey live for this Nigeria o, you no here say border don close, why you dey happy?" I questioned after a brief exchange of pleasantries to be a little bit mischievous, of course, I expected Bashir to have a contrasting feeling compared to William.
"Haha, you never see news. Baba don close border, my oga give us chicken this morning say make we kill am celebrate" He replied.
"Wetin you dey celebrate, na your oga birthday?" I continued.
"My oga na rich man now o, now una go chop our rice by force" He laughed.
We said our goodbyes after discussing other things.
The mood at Bashir's end meant rice farmers who are one of the main beneficiaries of the policy were ecstatic.
I, on the other hand, had been in the middle of a valuation process because I was looking to sell my farm. I wanted to invest in something else. Agriculture needed the time I couldn't give it now because of my new schedule.
A few days after the news broke, the buyer who had seemed reluctant to pay what I said the value of my poultry farm was called looking to make a deal asap. She wanted me to agree not to sell any more eggs from the farm anymore until we had completed the whole process, signifying she was ready to move on to the next stage. Haha, time for me to play hardball.
My farm manager had informed me that he had been receiving increasing calls from our resellers to book crates of eggs upfront. They also wanted guarantees that the prices will not become exorbitant. That is not our business model, our business has always been about the people first, so I told him to tell them, "bad as e bad, 850 crates will be sold for an additional 950 and so forth".
My buyer seemed in a haste to complete the deal. She wanted us to stop selling the eggs. In return, I gave no assurances until I received a certain percentage of the money and she agrees I keep 10% of the total value of the farm in profits, something she had vehemently kicked against at first. She objected again. We ended the call on a lighter note by jokingly telling her the border closure is making me reconsider selling as this was a time for more profit and she told me she knew.
Two days later she called again, by now the demand for eggs had gone higher than usual. We could only fulfil about 40% of our orders. Our biggest buyer (a fast food joint) wanted more. Eggs are highly perishable, so it didn't make sense to me that they wanted that much at once. All these were very good for business.
Did I hear you say demand-pull inflation? Lol, that's an economist joke.
I explained the situation to my buyer. I told her it was the best time to enter the market, she had bargained to pay about 3/4 of our valuation and I had asked for a 20% stake, in that case, she wasn't ready to give up any stake. So, I told her, it was either she gave me a 20% stake for her valuation or pay the full value and let me retain just 10%. By noon that day, I had received an initial deposit. The next day she had made full payment and we had signed the whole thing over, except my 10% of course.
So, if you ask me, although selfish as it may sound. The border closure helped me to make a better deal as I had no assurance of selling the farm for the full valuation before, much more keep a 10% stake. It is an incredibly rare deal.
As a staunch government critic, it is hard for me to say this, but border closure has made a lot of people happy, especially local farmers which to a degree, was why the government implemented it.
But, from an economic point of view, it has led to inflation comparable to that which was prevalent during the period when we had just come out of recession as echoed by the honourable minister of finance and for the good of everybody I hope the deadline for opening the border isn't extended again.
Although most people expected high increases in prices, in my personal experience, those increases haven't been as exorbitant as expected. Mixed reviews on the local rice though. I have had one brand that turned out very nice and another that took forever to cook, you would think it was beans. So I guess a bit of quality control should be introduced there before the rice enters the market.
Also, the border closure affects more than the food sector. Intercountry transportation businesses like the Cross Country and ABCs lose money because they are unable to do as many trips in a day as they did when the border was open.
But personally, it was a good thing as an ex poultry farmer. I'm grateful for it.
I would hope the government does the needful now and do something about our porous borders that doesn't involve closing it. We have the customs service for a reason. If we must close the border because we think our neighbours are giving us the short end of the stick, then we must call into question the efficacy of our customs and immigration service.
I hope they come to a better agreement with the leadership of our border countries like Seme and Cameroon and employ them to do more about the illegal outflow of goods from their countries into ours.
Also, statistics show we export more to our neighbouring countries than we import from them, so an exporter might have a different opinion on the border closure which I guess would be closer to Williams's prediction.
For now, Bashir and I eat our chickens.
Comments
0 comments