Diezani Allison Madueke, a former Nigerian Petroleum Minister has been reportedly appointed Commissioner for Trade and Investment in the Dominican Republic.
As a result, she now owns a diplomatic passport from the Island Government. Checkmate. She may never be arrested even if she steps foot on Nigeria, as per international laws. She cannot also be extradited because the Dominican Republic does not have extradition laws.
In a document shared with Pulse from the office of the Economic and Financial Crimes Commission (EFCC), Diezani who is still on trial for corruption back home in Nigeria, lobbied to become Trade and Investment Commissioner of the Dominican Republic and bagged a diplomatic passport from the island government to boot.
"With the diplomatic passport, she is immune to arrest by any law enforcement agency, including the Interpol," one EFCC operative who asked not to be named in this story, tells Pulse.
"Before leaving office on May 28, 2015, she had perfected a script with the office of the Prime Minister, Commonwealth of Dominica.
"She lobbied to be appointed as Trade and Investment Commissioner with effect from June 1, 2015.
"The lobby actually worked. In a letter dated May 29, 2015 and signed by Prime Minister Roosevelt Kerry, Diezani was offered not only the citizenship of Dominica, a Caribbean Island, but also an appointment as Trade and Investment Commissioner.
"A diplomatic passport issued on May 21, 2015, with an expiry date of May 20, 2020, came with the offer of appointment," the document from the EFCC reads.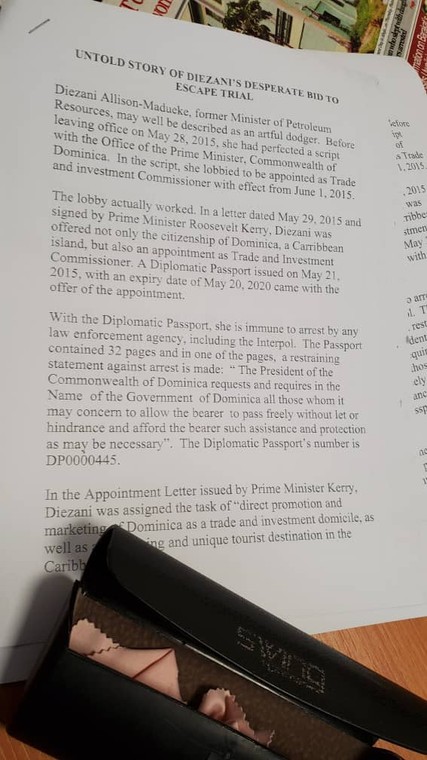 EFCC document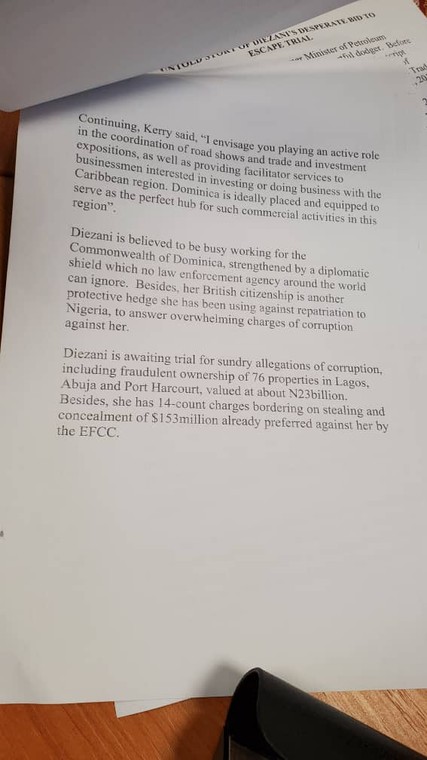 It adds that "the passport contained 32 pages and in one of the pages, a restraining statement against arrest is made."
The restraining order reads as follows: "The President of the Commonwealth of Dominica requests and requires in the Name of the Government of Dominica all those whom it may concern to allow the bearer to pass freely without let or hindrance and afford the bearer such assistance and protection as may be necessary."
Diezani's diplomatic passport number is given as DP0000445.
In the appointment letter issued by Prime Minister Kerry, Diezani was tasked with "direct promotion and marketing of Dominica as a trade and investment domicile."Diezani has been accused of grand scale looting during spell as minister in Nigeria (Punch)
Comments
0 comments